Are you ready for bariatric surgery? Before you dive in, there are certain things that you should know. For example, did you know that bariatric surgery is not for everyone? There are tests that your doctors will use to determine if you qualify (general overall health, blood work, medical history, etc.), in addition to the following qualifications.
What are the basic qualifications for bariatric surgery?
BMI ≥ 40
BMI ≥ 35 with obesity-related comorbidity (diabetes, heart disease, sleep apnea, etc.)
Being unable to achieve healthy weight with in a period of time with prior weight-loss efforts.
Other considerations we take into account when evaluating a patient for bariatric surgery include:
Nutrition and weight loss history
Medical condition
Psychological status
Motivation
Age
---
Why do I need a psychological evaluation for bariatric surgery?
Surgery is scary for anyone and doctors need to know that a patient is ready for it. Stress contributes to the body's chemical imbalance and could cause medical issues that might disqualify someone from having surgery. Here at Anchorage Bariatrics, psychological support is provided from the time you consider bariatric surgery, during evaluations, after surgery, and during recovery. If you have questions, feel free to ask and we'll get you the answer.
---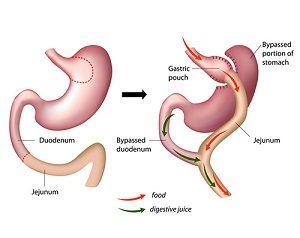 Gastric bypass surgery: Is it for you?
Gastric bypass surgery isn't a miracle procedure — and it isn't for everyone. Having gastric bypass surgery doesn't guarantee that you'll lose all your excess weight or that you'll keep it off over the long term. Nor is it a way to avoid making changes in your diet and exercise habits. In fact, you can regain the weight you lose with gastric bypass surgery if you don't stick with the lifestyle changes. All of these are reasons why our team is here to support and guide you if you do choose to have surgery. We know that support is a key factor in long-term weight loss success. If you think gastric bypass surgery might be right for you, please give us a call to schedule your consultation today.
~https://www.mayoclinic.org (https://www.mayoclinic.org/)
---
9 foods that help reduce anxiety
People can make a variety of lifestyle changes to help manage their anxiety. Eating a diet high in vegetables, fruit, legumes, whole grains, and lean protein can be helpful.
Brazil nuts
Fatty fish
Eggs
Pumpkin seeds
Dark chocolate
Turmeric
Chamomile
Yogurt
Green tea
Eating a healthful diet should provide all the nutrients needed for healthy brain function and anxiety relief.
A healthful diet that contains antioxidant and anti-inflammatory compounds, as well as vitamins and minerals might help reduce inflammation and oxidative stress.
Reducing foods that are high in added sugar, salt, and fats (especially trans fats) may help also help reduce inflammation. Reduce alcohol, sugar, and coffee as these may increase episodes of anxiety and associated symptoms.
~https://www.medicalnewstoday.com (https://www.medicalnewstoday.com/)